Clayton Bike Guide
Welcome to our "Motorcycle Guide to Clayton". Here we intend to give you all the best information about the area with regards to friendly roads, attractions, hotels, eateries, discounts and many more things.
Scenic Routes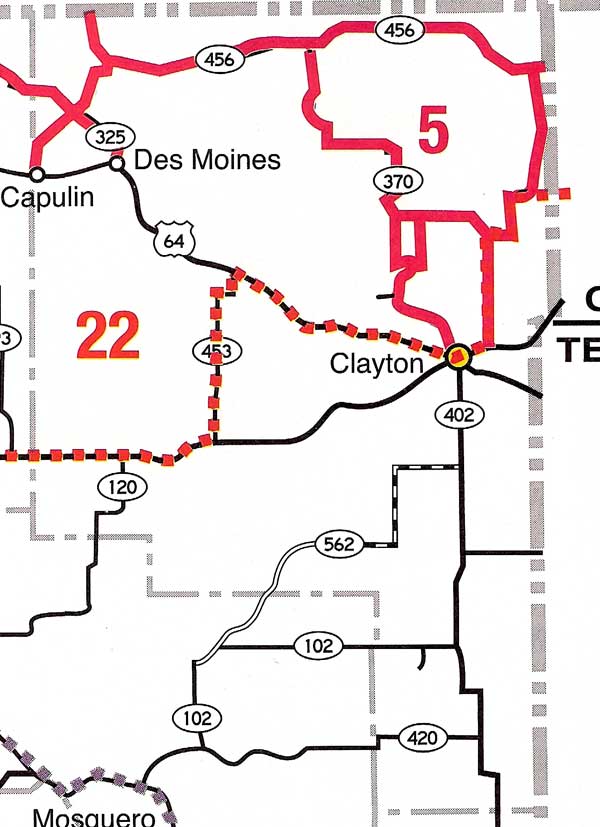 Please note that not all of the roads on "Scenic Routes" are biker friendly. Please refer to the description of roads below for information.


5) Dry Cimmmaron Scenic Byway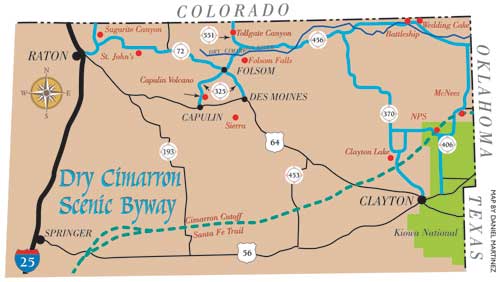 Highlights include, Folsom Museum, Clayton Lake Stake Park, McNees Crossing, Santa Fe Trail, Kiowa National Grasslands, Capulin Volcano. This is an excellent route to drive but not all of the roads are suitable for motorcycles. Please refer to the road descriptions below for more infromation.

22) Santa Fe Trail National Scenic Byway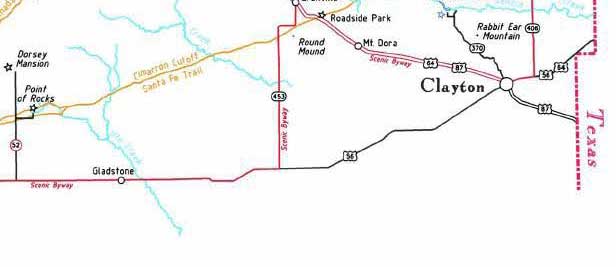 Highlights include McNees Crossing and Dorsey Mansion.
Union County Map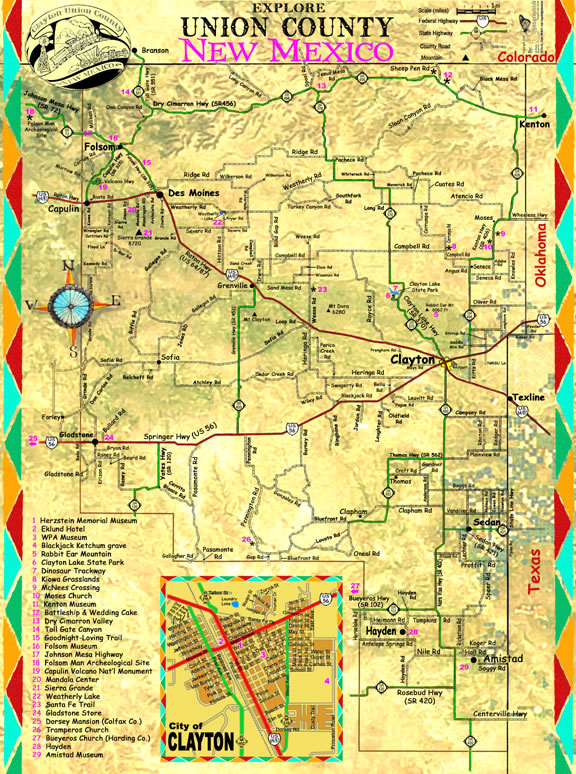 Bike friendly roads of Union County
US 64/87


Highlights: Capulin Volcano, Folsom Village, Folsom Museum, Folsom Mansite, Folsom Waterfall, Sierra Grande, Manala Center, Clayton.
US 56
US56 comes in from the Northwest of Clayton from Oklahoma and goes Southwest to Springer. This is a wide open and fairly flat highway that has some great scenery.
After you leave Clayton the next stop for gas is in Gladstone.


Highlights: Gladstone Mercantile, Santa Fe Trail Museum, Rabbit Ear Mountains, Point of Rocks.
SR 370


Drive north from the Town of Clayton on 370 to Clayton Lake State Park. This is a slow (50MPH Max) cruising road that has allot of bends and goes up and down allot. The scenery is excellent and you drive by the Rabbit Ear Mountains.

After 12 miles the road is unrideable. That is just after the State Park.

Highlights: Rabbit Ear Mountain, Clayton Lake State Park, Dinosaur Tracks, Nature Trail.
SR 325

 
This is an excellent ride. Very scenic and quiet roads, though it does have alllot of livestock roaming around it. Very secluded. You cantake it at Des Moines and loop around to the end and come out at Capulin or you can join up with 72 which will take you to Raton.
Hilights: Folsom, Goodnight-Loving Trail, Folsom Museum,

SR 406

 
A pretty straight drive with some good scenery. I will take you all the way to 456 which goes to Kenton, OK.
Highlights: Moses Church, McNees Crossing.

SR 402

 
This is a very nice cruise which takes you by Sedan and the turnoff for Hayden, and also Amistad..
Highlights: Amistad Musem (Note: To get to this you need to drive for a few miles on dirt a dirt road.)

SR 562

 
562 is a turnoff from 402 and will take you directly to Clapham.
Highlights: Clapham

SR 421

 
This is a short road that comes off 402 which will take you to Sedan.
Highlights: Sedan

SR 102

 
102 is also known as Bueyeros Highway. It is also a turnoff from 402
Highlights: Bueyeros Church (Harding Co.)

SR 456

 
The best route for bikers to get to 456 is via 406 North. Although this is a very scenic drive a large portion of this road is dirt and dangerous to drive.
Highlights: Battleship & Wedding Cake, Dry Cimmaron Valley, Toll Gate Canyon (Note you will have to drive 551 to get to Toll Gate Canyon)

 
 
 
Roads not listed are not biker friendly and are dirt / gravel.