Mandala Center
THE MANDALA CENTER (TMC) is a not-for- profit organization incorporated in June 1996. It serves as a retreat center in a dramatic setting at milepost 383 on US 64/US 87, three and a half miles west of Des Moines in the northeastern sector of New Mexico. It sits at 7000 feet on the slopes of Sierra Grande, with sweeping views including the Fuji-like Capulin Volcano National Monument.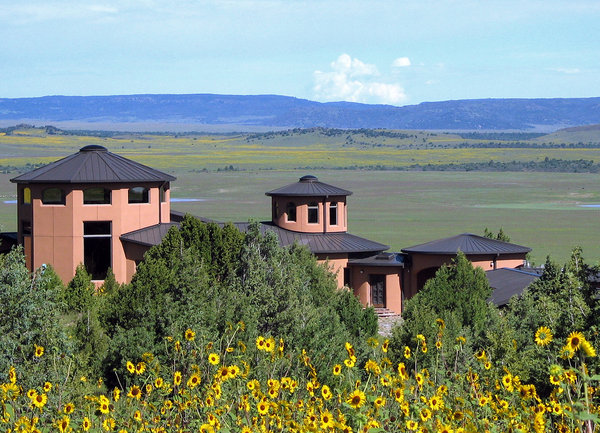 Our Center's Goals

Our goal for the The Mandala Center is to be a peaceful and appealing place for people to refresh the mind, renew the spirit, and heal the body. TMC encourages people to study how better to know themselves, their motivations, and their exceptional capacity to become what they dream they can become.

TMC is an ecumenical, multi-racial, multi-cultural resource center providing programs in these special areas of interest:

Leadership Development: The Mandala Center has two challenge courses. The "low" course includes a number of elements that allow groups to enhance their ability to work together as a team. The "high" ropes course sets individual challenges as each person learns to face their fears, and that they can really do anything they set their minds to. Groups that are interested in developing these abilities are invited to come to use the courses, and so to explore how body, mind and spirit interact in setting and reaching personal and group goals and potential.

Spiritual Development: The Mandala Center provides training in the spiritual process. The goal is to deepen the spiritual journey and to promote personal transformation through self- knowledge and through one's relationship with God and with others.

Health and Wholeness: The Mandala Center offers programs that enhance health, as well as supportive programs for those who are facing illnesses, and for those who care for them. The aim is to foster an integrative approach to healing through medicine, alternative approaches, and through spirituality.